UF Workforce Affiliations Lifecycle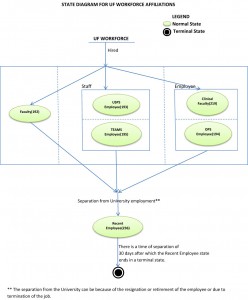 Explanation of the transitions that take place:
A member of the UF Workforce can be hired as a Faculty(192), an Employee or as a Staff i.e. the entity UF Workforce can concurrently be in the states Faculty, Employee or Staff.
A Staff can be a USPS Employee(193) and a TEAMS Employee(195) at the same time.
Similarly, an Employee can be a Clinical Faculty (219) and an OPS Employee(194) concurrently.
The affiliations shown in the above state diagram are paid by UF. The UF Workforce also comprises of other affiliations which are not paid by UF. They are shown below.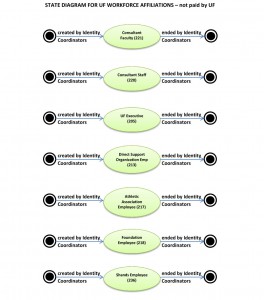 The affiliations are described below (The Internet 2 MACE EduPerson Schema values are also mentioned along with the affiliations):
Faculty (F):
Type 192: Faculty
Human Resource Services – Members of UF Faculty Member pay plan.
Staff (T):
Type 193: USPS Staff
Human Resource Services – Member of UF University Support Personnel System (USPS) pay plan. Name and either SSN or Birth Date are required to declare a USPS affiliation.
Type 195: TEAMS Employee
Human Resource Services – Members of UF Technical, Executive, Administrative & Managerial Support (TEAMS) pay plan. Name and either SSN or Birth Date are required to declare a TEAMS affiliation.
Employee (E):
Type 194: OPS Employee
Other Personnel Services (OPS) – Temporary UF employees (Clinical Post Doc. Assoc/Intern, Fellowships, Federal Work Study Program, Graduate Assistant, House staff, OPS Faculty, OPS Regular, Student Assistant, Student Government & Housing) managed in the Human Resources Management System (HRMS) by Human Resource Services / Student Financial Affairs.
Type 219: Clinical Faculty
(formerly AEF Base Employee) Faculty who are appointed to a clinical practice plan at the Health Science Center (HSC). Practice plans exist for Medicine, Dentistry, and Health Related Professions.
Type 236: Recent Employee
An individual who has formally separated from UF within the last 30 days. HRMS job actions will designate the separation.